Practical Masterclass: Running a community group.
Calling all small Community Groups and Voluntary Associations. West Limerick Resources SICAP will be hosting a Practical Masterclass on Running a Community Group/Voluntary Association which will take place over three sessions on Tuesdays October 25th, November 8th & November 22nd from 7pm – 9pm at the Long Court House Hotel, Newcastle West. It is recommended that participants should attend all three sessions.
Led by Community Engagement and Governance specialist Liz Burke, the three sessions will cover a wide range of topics of importance to small community groups and voluntary associations new and long-established alike.
The areas covered will include:
Session 1 October 25th
The basics around establishing and running a small community group or voluntary association, to include governance-related issues such as Legal Form, Constitution, AGMs, Policies and Procedures, Board and Sub Committees, Roles, Responsibilities, Decision Making and Succession Planning.
Session 2 November 8th
Practical information for small community groups and voluntary associations such as how to run a meeting, take minutes, the role of sub committees at an operational level, recruitment, retention and recognition of volunteers, as well as AGMs, financial procedures, dealing with complaints and day to day implementation of policies and procedures.
Session 3 November 22nd
A practical guide to accountability for small community groups and voluntary associations, to include an overview of the role of the Charities Regulator, obtaining Charitable Status, the Governance Code and statutory reporting requirements.
To register text Brenda Heath on 087 7669952 or email bheath@wlr.ie, providing your name and the community group you represent.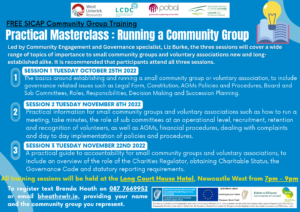 This training programme is funded by SICAP. "The Social Inclusion and Community Activation Programme (SICAP) 2018-2022 is funded by the Irish Government through the Department of Rural and Community Development and co-funded by the European Social Fund under the Programme for Employability, Inclusion and Learning (PEIL) 2014-2020"