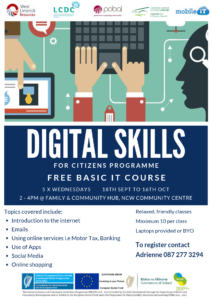 West Limerick Resources and Mobile IT are running a FREE Digital Skills course in Newcastle West.
5 sessions 2-4 pm Wednesdays starting 18th September.
This course is suitable for beginners and will cover the following:
* Introduction to the internet
* Using Email & Apps
* Online services i.e Motor Tax, Banking
* Social Media
* Online Shopping
Classes are small and relaxed and computers will be provided though you are welcome to use your own device i.e smartphone, tablet or laptop.
For further information or to book your place please contact
Adrienne 069 79110 / 087 277 3294